PPRE Three-Rotor (Short-Crank) Complete engine package
Description
Over the last 12 years we have been building, tuning and developing these packages for customers around the world. These have been used in many types of motorsport and even street use with great success and reliability. Due to the amount of enquiry's we have outlined a base package complete with everything required to get your engine started
Every engine package is built specifically for the customers requirements and built using all new parts, once assembled the engine is setup for bench testing prior to delivery. The ecu will be preloaded/configured with a base start up map for ease once your engine is fitted.
Note: Many other additional parts, modifications or upgrades can be added, please enquire via email  pulseperformance.re@gmail.com
* 50% Deposit required at time of order and up to 12 week turn-around depending on current work load.
* NZ customers please note that prices exclude GST
*Listed prices are all NZD
read more
Description
* New Built N/A PP complete engine using all new parts, Hi comp rotors, specific engine porting, all internally balanced & modified to produce 420HP +.
* Custom fabricated Intake and Exhaust manifolds, fabricated engine sump, Throttle body's, Linkages, Fuel rails, fuel regulator, injectors, Fuel pumps,  Alternator and side mount bracket,  waterpump and adaptor flange to engine block, Ecu ( Haltech Elite 750 used in Base kit), Complete wired engine harness, IGN1 ignition coils and MSD ignition leads included.
Note: Base kit includes wet sump oil system and basic ecu sensors such as water/air temp/tps. Due to these packages being used in a wide range of applications specific engine coolers and plumbing is additional.
Related Products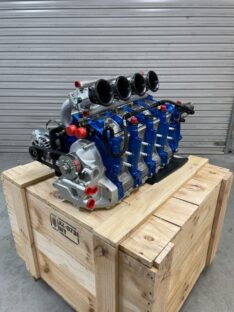 PPRE N/A PP Quad-Rotor Complete Engine Package
Engine Packages $79,000
(excl GST) + Add to cart